VISITA
El bosque comestible y el cultivo de la vainilla
Ven a descubrir uno de los aromas más preciados y apreciados del mundo: la vainilla !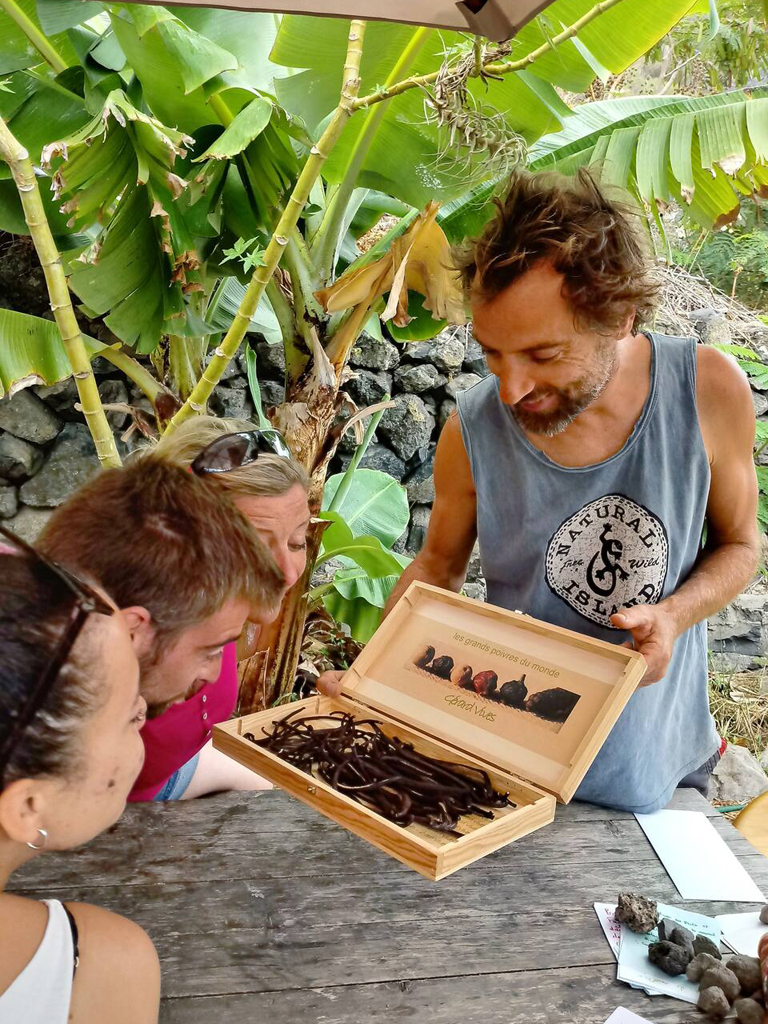 ¿De dónde procede? ¿Cómo crece? ¿Cómo se producen estas vainas de agradable aroma? Durante su visita a la Finca la Canopea, descubrirá cómo, en un ecosistema subtropical regenerado, la planta de la vainilla se aclimata y produce vainas. Durante el periodo de floración (entre abril y julio), asistirá a la polinización de las flores, a la cosecha de las vainas y/o a su preparación. Mi pequeña producción de vainilla es única en Canarias.
En la Finca la Canopea, nuestra ambición es transformar un desierto en un ecosistema rico y variado compuesto por muchas plantas comestibles. Comenzaré la visita mostrando cómo, mediante técnicas de permacultura, recreamos hábitats naturales donde el hombre y la naturaleza encuentran su lugar. En este agradable entorno descubrirá cómo se aclimató la planta de la vainilla y cómo tengo la ambición de cultivarla a mayor escala.
Ya sea solo o en grupo, la visita es apta para todos.
Visita disponible todos los martes y jueves a las 10 y 11h30 de la mañana para individuales o grupos.
Los grupos también pueden ponerse en contacto con nosotros para reservar otro momento según nuestras disponibilidades.
Reserva ahora !
Great explanation of the basics of permaculture and vanilla cultivation. The area is magical, filled with excellent examples of both classic and out of the box practices. Highly recommended.

Roland


12th September 2023

I really enjoyed my time on Pascal's Finca! It is a beautiful location and you can tell he has a passion for what he does! I highly suggest taking his... read more tour, I learned a lot about permaculture.

Dena


1st August 2023

Rencontre et découverte enrichissantes. Pascal est passionné et très pédagogue. Nous avons apprécié son approche, appris sur la permaculture et la culture de la vanille et passé un très agréable... read more moment. Merci !

Sylvie


1st August 2023
La visita dura aproximadamente 1 hora. El precio es 36€ para una o dos personas. Los visitantes adicionales pagan 18€ cada uno.
Por favor, haz tu reserva a través de este formulario de contacto, y no olvides indicarnos cuántas personas sois y qué día os gustaría venir (sólo martes y jueves por la mañana). Si lo prefiere, también puede llamarnos directamente para reservar su visita.
Gracias y hasta pronto!!!