VISIT
Edible forest and vanilla plantation

Come and discover one of the most precious and prized aromas in the world: the vanilla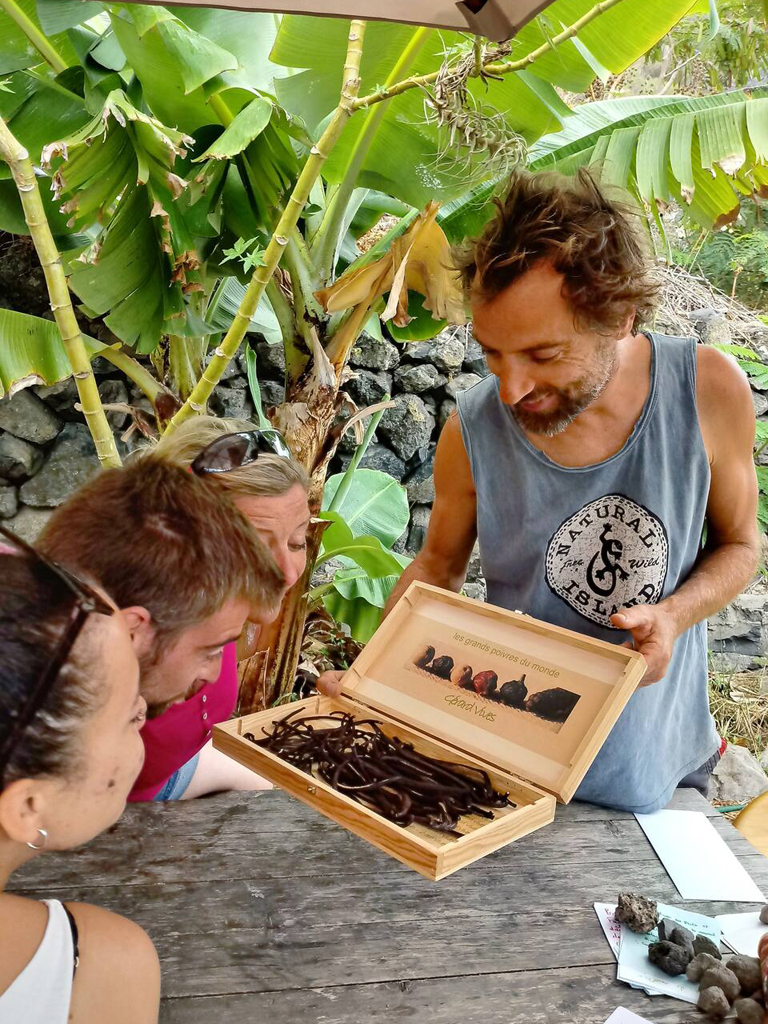 Where is it from? How does it grow? How are these pods with a pleasant scent produced? During your visit to Finca la Canopea, you will discover how, in a regenerated subtropical ecosystem, the vanilla plant acclimates and produces. During the flowering period (between April and july), you will attend the pollination of the flowers, the harvest of the pods and / or their preparation. My little vanilla production is unique in the Canaries.

At Finca la Canopea, our ambition is to transform a desert into a rich and varied ecosystem made up of many edible plants. I will start the visit by showing you how, using permaculture techniques, we recreate natural habitats where man and nature find their place. It is in this pleasant environment that you will discover how the vanilla plant got acclimated to it and how I have the ambition to cultivate it on a larger scale.
Whether you are alone or a group, the tour is suitable for everyone.
Visit available every thuesday and thursday at 10 and 11.30 am for individuals or groups.
Groups can also contact us to book another moment according to our availabilities.
Book now!
C'était une super expérience, très enrichissante, nous avons appris beaucoup de chose.
Les connaissances et la passion se font ressentir lors de la visite
Je recommande vivement cette expérience !... read more
Encore merci 🙏

Jacky


23rd May 2023

Pascal nimmt sich für die Besucher Zeit, um seine Art der Permakultur auf Teneriffa vorzustellen. Für uns war es ein sehr interessantes Erlebnis, das wir nur weiterempfehlen können.... read more

Daniel


23rd May 2023

Very interesting and unique tour! We learned a lot and walked away with a greater appreciation of the vegetation on the island as well as the hard work it takes... read more to produce vanilla beans. Thank you Pascal for sharing your knowledge!

Amy


6th April 2023
The visit lasts aproximately 1h. The price is 25€ for one person, and 30€ for two persons. Additional visitors pay 15€ each.
Please make your reservation using this contact form, and don't forget to tell us how many people you are and which day you would like to come (only tuesday and thursday mornings). If you prefer you can also call us directly to book your visit.
Thank you and see you soon!!!