VISIT
Edible forest and vanilla plantation

Come and discover one of the most precious and prized aromas in the world: the vanilla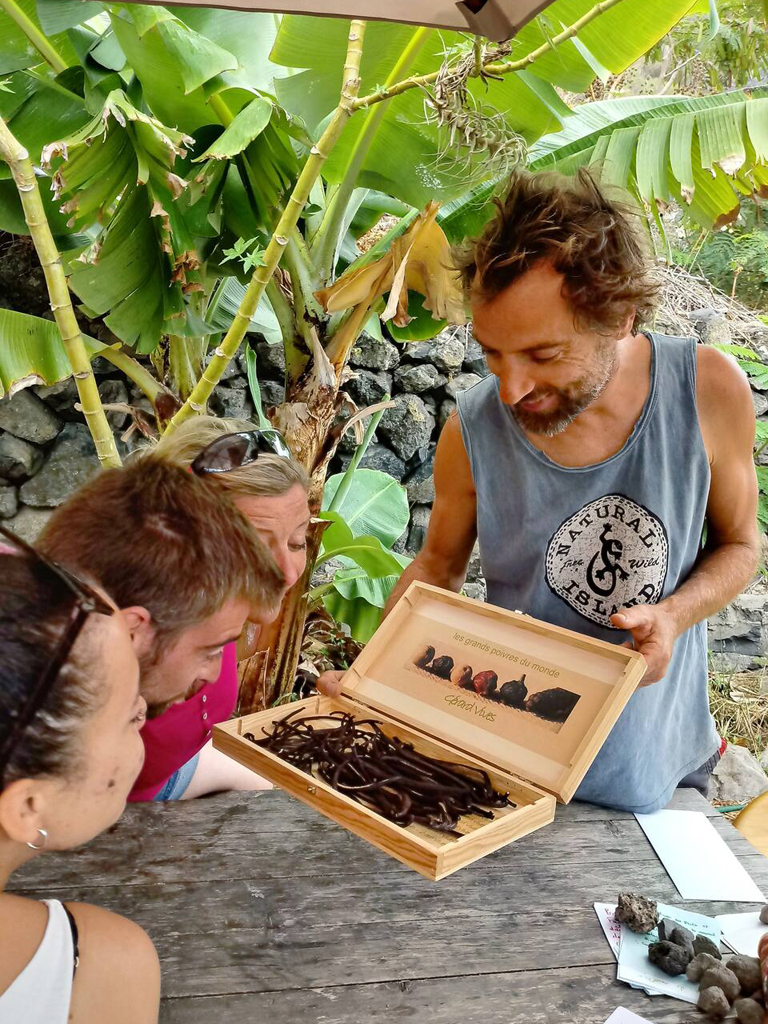 Where is it from? How does it grow? How are these pods with a pleasant scent produced? During your visit to Finca la Canopea, you will discover how, in a regenerated subtropical ecosystem, the vanilla plant acclimates and produces. During the flowering period (between April and july), you will attend the pollination of the flowers, the harvest of the pods and / or their preparation. My little vanilla production is unique in the Canaries.

At Finca la Canopea, our ambition is to transform a desert into a rich and varied ecosystem made up of many edible plants. I will start the visit by showing you how, using permaculture techniques, we recreate natural habitats where man and nature find their place. It is in this pleasant environment that you will discover how the vanilla plant got acclimated to it and how I have the ambition to cultivate it on a larger scale.
Whether you are alone or a group, the tour is suitable for everyone.
Visit available every thuesday and thursday at 10 and 11.30 am for individuals or groups.
Groups can also contact us to book another moment according to our availabilities.
Book now!
Amazing experience, I do recommend anyone who'll visit Tenerife to come by Finca la canopea ! Lovely people and interesting facts about vanilla cultivation

Helena 艾蓮


24th January 2023

Der große Garten mit dem Vanille-Bereich sind etwas ganz Besonderes. Es gab viel zu entdecken und probieren. Wir hatten eine tolle Zeit mit vielen neuen Eindrücken, super Erklärungen und Inspirationen... read more und ich denke gern an den Tag zurück 🙂 Absolut empfehlenswert 🌱

Josefine


17th January 2023

Wonderful intro in premaculture, history of vanilla and gorgeous plants! If you have any interest in plants, gardening, spices, sustainability, nature or just want to have a lovely time this... read more is a must visit while on Tenerife ❤️

Natalja


5th January 2023
The visit lasts aproximately 1h. The price is 25€ for one person, and 30€ for two persons. Additional visitors pay 15€ each.
Please make your reservation using this contact form, and don't forget to tell us how many people you are and which day you would like to come (only tuesday and thursday mornings). If you prefer you can also call us directly to book your visit.
Thank you and see you soon!!!