VISIT
Edible forest and vanilla plantation

Come and discover one of the most precious and prized aromas in the world: the vanilla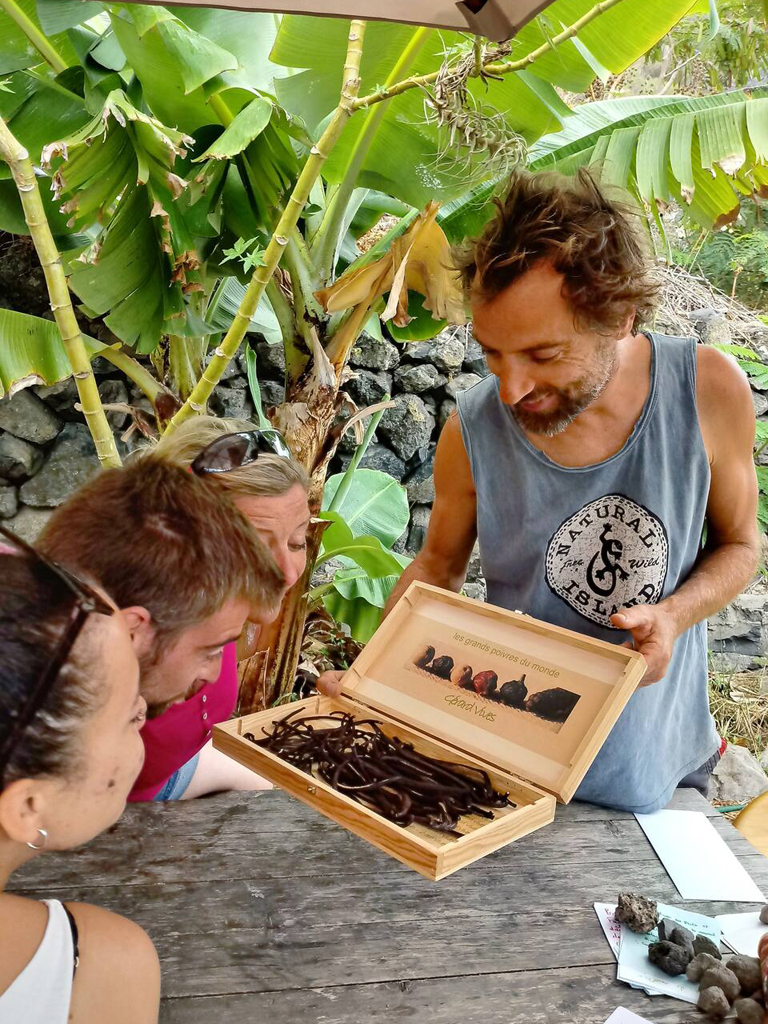 Where is it from? How does it grow? How are these pods with a pleasant scent produced? During your visit to Finca la Canopea, you will discover how, in a regenerated subtropical ecosystem, the vanilla plant acclimates and produces. During the flowering period (between April and july), you will attend the pollination of the flowers, the harvest of the pods and / or their preparation. My little vanilla production is unique in the Canaries.

At Finca la Canopea, our ambition is to transform a desert into a rich and varied ecosystem made up of many edible plants. I will start the visit by showing you how, using permaculture techniques, we recreate natural habitats where man and nature find their place. It is in this pleasant environment that you will discover how the vanilla plant got acclimated to it and how I have the ambition to cultivate it on a larger scale.
Whether you are alone or a group, the tour is suitable for everyone.
Visit available every thuesday and thursday at 10 and 11.30 am for individuals or groups.
Groups can also contact us to book another moment according to our availabilities.
Book now!
The experience was really great and to see the permaculture was insteresting. Learning about the plants was fascinating! We really recommend visiting the Finca!

Sarina


16th March 2023

Impressionnés par l'ensemble de ce que Pascal nous a montré, avec beaucoup de pédagogie et de patience pour répondre à toutes nos questions ! Le lieu est incroyablement beau, la... read more nature est ici tellement respectée ! Cette visite est à mon sens un incontournable de votre séjour à Tenerife !

Yaëlle


14th March 2023

Lovely insight in how Pascal had worked with the land. Very interested to see the different types of plants and learn about Vanilla.

Christiaan


7th March 2023

wonderful to see someone with enthusiasm and a plan in harmony with nature. Pascal was lovely and we appreciate him sharing his project with us. We learned a lot... read more and left with hope for a better future for our planet. We need more caretakers like him.

Yvonne


2nd March 2023
The visit lasts aproximately 1h. The price is 25€ for one person, and 30€ for two persons. Additional visitors pay 15€ each.
Please make your reservation using this contact form, and don't forget to tell us how many people you are and which day you would like to come (only tuesday and thursday mornings). If you prefer you can also call us directly to book your visit.
Thank you and see you soon!!!