VISIT
Edible forest and vanilla plantation

Come and discover one of the most precious and prized aromas in the world: the vanilla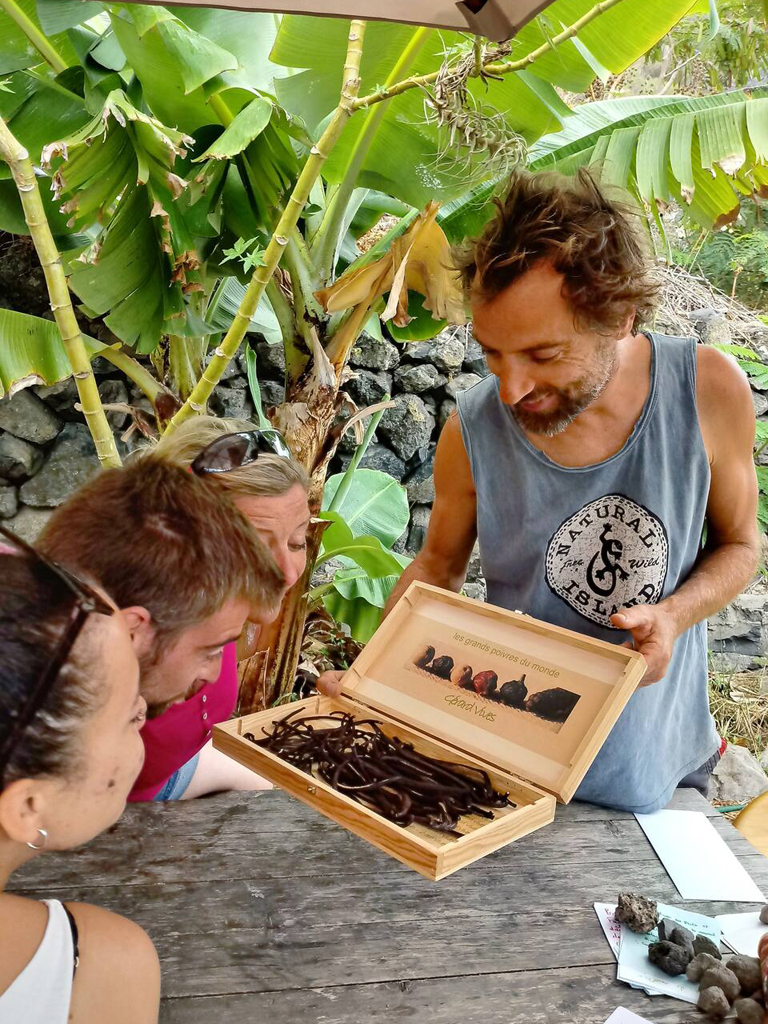 Where is it from? How does it grow? How are these pods with a pleasant scent produced? During your visit to Finca la Canopea, you will discover how, in a regenerated subtropical ecosystem, the vanilla plant acclimates and produces. During the flowering period (between April and july), you will attend the pollination of the flowers, the harvest of the pods and / or their preparation. My little vanilla production is unique in the Canaries.

At Finca la Canopea, our ambition is to transform a desert into a rich and varied ecosystem made up of many edible plants. I will start the visit by showing you how, using permaculture techniques, we recreate natural habitats where man and nature find their place. It is in this pleasant environment that you will discover how the vanilla plant got acclimated to it and how I have the ambition to cultivate it on a larger scale.
Whether you are alone or a group, the tour is suitable for everyone.
Visit available every thuesday and thursday at 10 and 11.30 am for individuals or groups.
Groups can also contact us to book another moment according to our availabilities.
Book now!
Die Tour durch Pascals Plantage war wahnsinnig beeindruckend. Pascal und seine Frau haben sich dank Permakultur und viel Liebe und Mühe ein kleines Paradies geschaffen. Wie toll dass Pascal das... read more und seine Geschichte mit uns teilt. Das schafft Lust, es ihnen gleich zu tun. 🙂

Ina


31st October 2023

We loved the experience of the Vanilla Cultivation --- it is so much more than the title leads you to expect. Extremely informative and educational, and you can certainly see... read more the passion that Pascal has for the project.
Definitely worth visiting, and highly recommended ---- not just for adults as I think families would find this extremely interesting too.

Pierre


31st October 2023

Wir wurden herzlich empfangen und so ging die Tour auch weiter. Pascal gibt sein Wissen über die Pflanzen mit Begeisterung weiter. Toll ist, dass der bezahlte Betrag zu 100% in... read more das Projekt reinvestiert wird.

Selina


17th October 2023

Unieke ervaring, deze man wil mensen het eco systeem laten zien. Ook laat hij zijn gewas proeven. De vanille kwekerij was echt top, proeverij erachteraan maakt het af. Ik hoop... read more dat veel mensen doen zoals Pascal en Béné! Bedankt voor dit top avontuur, wij zijn geïnspireerd

Ruby


12th October 2023
The visit lasts aproximately 1h. The price is 36€ for one or two persons. Additional visitors pay 18€ each.
Please make your reservation using this contact form, and don't forget to tell us how many people you are and which day you would like to come (only tuesday and thursday mornings). If you prefer you can also call us directly to book your visit.
Thank you and see you soon!!!