VISITE
La forêt comestible et la culture de la vanille

Venez découvrir l'un des arômes les plus précieux et les plus appréciés au monde : la vanille !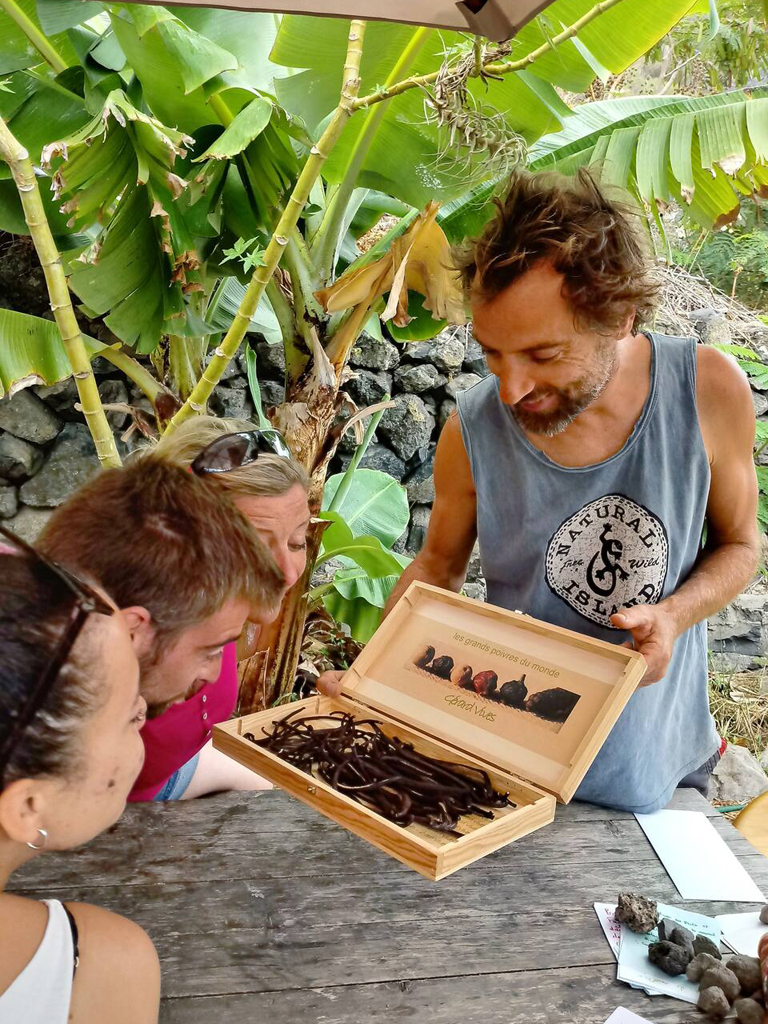 D'où vient-elle ? Comment pousse-t-elle ? Comment sont produites ces gousses au parfum agréable ? Lors de votre visite à Finca la Canopea, vous découvrirez comment, dans un écosystème subtropical régénéré, le vanillier s'acclimate et produit des gousses. Pendant la période de floraison (entre avril et juillet), vous assisterez à la pollinisation des fleurs, à la récolte des gousses et/ou à leur préparation. Ma petite production de vanille est unique aux Canaries.
À la Finca la Canopea notre ambition est de transformer un désert en un écosystème riche et varié composé de nombreuses plantes comestibles. Je commencerai la visite en vous montrant comment, grâce aux techniques de permaculture, nous recréons des habitats naturels où l'homme et la nature trouvent leur place. C'est dans cet environnement agréable que vous découvrirez comment le vanillier s'y est acclimaté et comment j'ai l'ambition de le cultiver à plus grande échelle.
Que vous soyez seul ou en groupe, la visite est adaptée à tous.
Visite disponible tous les mardis et jeudis à 10h et 11h30 pour les individuels ou les groupes.
Les groupes peuvent également nous contacter pour réserver un autre moment en fonction de nos disponibilités.
Réservez maintenant !
The experience was really great and to see the permaculture was insteresting. Learning about the plants was fascinating! We really recommend visiting the Finca!

Sarina


16th mars 2023

Impressionnés par l'ensemble de ce que Pascal nous a montré, avec beaucoup de pédagogie et de patience pour répondre à toutes nos questions ! Le lieu est incroyablement beau, la... read more nature est ici tellement respectée ! Cette visite est à mon sens un incontournable de votre séjour à Tenerife !

Yaëlle


14th mars 2023

Lovely insight in how Pascal had worked with the land. Very interested to see the different types of plants and learn about Vanilla.

Christiaan


7th mars 2023

wonderful to see someone with enthusiasm and a plan in harmony with nature. Pascal was lovely and we appreciate him sharing his project with us. We learned a lot... read more and left with hope for a better future for our planet. We need more caretakers like him.

Yvonne


2nd mars 2023
La visite dure environ 1h. Le prix est de 25€ pour une personne, et de 30€ pour deux personnes. Les visiteurs supplémentaires paient 15€ chacun.
Veuillez faire votre réservation en utilisant ce formulaire de contact, et n'oubliez pas de nous dire combien de personnes vous êtes et quel jour vous souhaitez venir (uniquement les mardis et jeudis matins). Si vous préférez, vous pouvez également nous appeler directement pour réserver votre visite.
Merci et à bientôt!